New Sutton Secondary School Progressing On-Site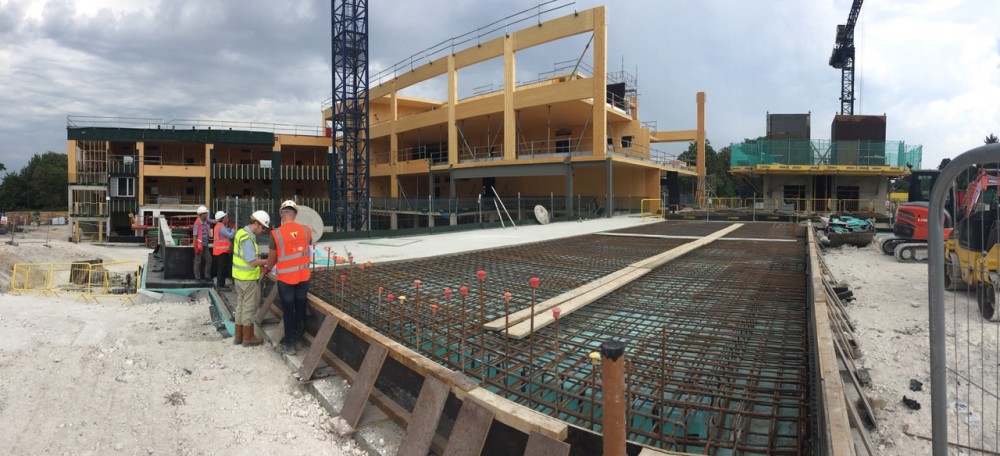 Sutton Secondary School is progressing fast! We visited site at the end of July on the only rainy day in recent memory, but seeing the impressive structure at this stage more than made up for the dreary weather conditions.
For those unfamiliar with the project, the school is a new £36m project for London Borough of Sutton and the Harris Federation. The 6 form-entry school with 6th form is part of the wider masterplan for the intended London Cancer Hub (LCH), a new life science innovation cluster focused on cancer research and treatment, situated on the former Sutton Hospital site.
Continuing the Borough's reputation for high-quality development, a key integration has been environmental sustainability, with an ambition to achieve the Passivhaus Standard.
Construction started in the north-west corner at the start of 2018 and is progressing in phases down to the south-east end of the site, with completion due in July 2019.
The concrete package is nearing completion and the CLT is well underway. The scale of the building means that at some stage later this year we should be able to see it in almost every stage of progress simultaneously, as the trades pursue each other in a domino effect around the site. By the time the last CLT member is installed at one end, the other will be watertight and internal finishes will be going in!
Willmott Dixon have been maintaining a very tidy site and a high quality of construction throughout. A preliminary air-test has already been carried out on a test room, with a sample window installed, and the results were very encouraging.
We look forward to this excellent progress continuing and seeing this landmark building take shape over the next few months.
For more background information on the project, click here