5-8thJuly
Wyre Community Land Trust, Worcester, UK
SITW is the experience of the raw art of making. It's an opportunity to connect to a material through the process of constantly working with it physically and rigorously, collaborating with inspiring individuals and collectively building a vision into reality. Established in 2005, this research and educational project was founded by Piers Taylor (Invisible Studio), Kate Darby (Kate Darby Architects), Meredith Bowles (Mole Architects) and Gianni Botsford (Gianni Botsford Architects) to explore ideas at a 1:1 scale.
I was invited by Kate Darby when she visited Architype for my MArch tutorial. Building a structure at a 1:1 scale is something I was always keen to get my hands on and now, after the 4 days of being in the woods, making and exploring, I am even more keen to continue this practice.
I didn't really have an expectation of what SITW would be like. Actually, there is very little in terms of a brief before you start; for me that was intriguing – stepping into an element of the unknown. It encouraged me to go there with an open mind to learn and take in every fresh moment as an opportunity to explore and immerse in it as much as I could. I was worried initially as an introvert, it felt a little out of my comfort zone! In retrospect, I actually really enjoyed meeting everyone there. The fact that we were all there wanting to make and learn meant that there was always a point of connection. It was an environment where everybody could relax and be comfortable, engaging in conversations, working together as a team and building relationships through this process of making.
4 days of camping in the beautiful landscape in the Wyre Forest was also another highlight of this workshop. It's refreshing to switch off from your everyday life to do something completely different for a few days in a new environment. You learn a lot about the forest itself with inspiring talks and lectures in an amazing atmosphere. You also get to work with and learn from an incredible bunch of people whether it be architects, carpenters, furniture makers, entrepreneurs, engineers or students. We were introduced to the various tutors and group concepts on the evening of the first day.
In total there were 60 people split into 6 groups:
Shin Egashira (Architectural Association) /Zoe Berman (Berman Studio):
Shin and Zoe introduced their concept as the process of 'using hands not machine', 'limiting materials by using what is left over' to 'connect with the material', 'to understand the fragility and rawness by letting the material behave how they are' and so on. Our brief was to try not to pre-design the form but allow for timber to take the lead. The form would therefore be the outcome through the collective process. What interested the tutors was the historical connection to charcoal burningin the Wyre Forest as an underlying theme.
Whilst all other project briefs were equally fascinating, I enjoyed the way both tutors Shin Egashira and Zoe Berman talked passionately about their approach and ethos. Shin ended the presentation with a question. 'How shall we celebrate?'
I was really excited to be a part of this group with our outcome blending in with the existing stacking of felled timber from afar. When you approach the structure, it doesn't seem intentional or out of place at all, and it resembles the felled timber that is currently the process that the Wyre Forest is undertaking to manage the quality of Oak produced. Currently a large proportion of the timber is only used as firewood and goes to waste. Due to the density, the quality of the Oak is compromised. There's a potential through management for the Wyre Forest and community to thrive by looking after the forest and the existing trees, or even growing better quality trees for other purposes (a great opportunity for local and sustainable timber for construction reducing the cost of transporting it from other countries).
This thinning process had created pockets of space where the trees were felled to create the opening for light to enter. We decided to celebrate this space; and celebrate this process as a new beginning for the Wyre Forest.
The Wyre Community land trust really wanted to keep this structure as a part of storytelling space or for communal gathering. So our challenge then was to make it as robust as possible for people to inhabit the structure in several ways, as a seating space or hanging their coats.
All other groups had fascinating approach, process and outcome celebrating in different ways. At the end of the workshop we all walked around everybody's structure and experienced the spaces along with Niall Mclaughlin, Robert Mull, Peter Clegg and Ted Cullinan who were the visiting critics. Below are some images I took of each group:
Kate Darby (Kate Darby Architects) & Gianni Botsford (Gianni Botsford Architects): 'constructed analysis' regarding sunlight and daylight by mapping shadows around a group of buildings in the forest to determine strategies for the future placement of buildings.
Lee Ivett (Baxendale), Je Ahn (Studio Weave), Lynton Pepper (Architecture00), Tim Lucas (Price and Myers): Challenge of Belfast truss structure out of small sections of oak.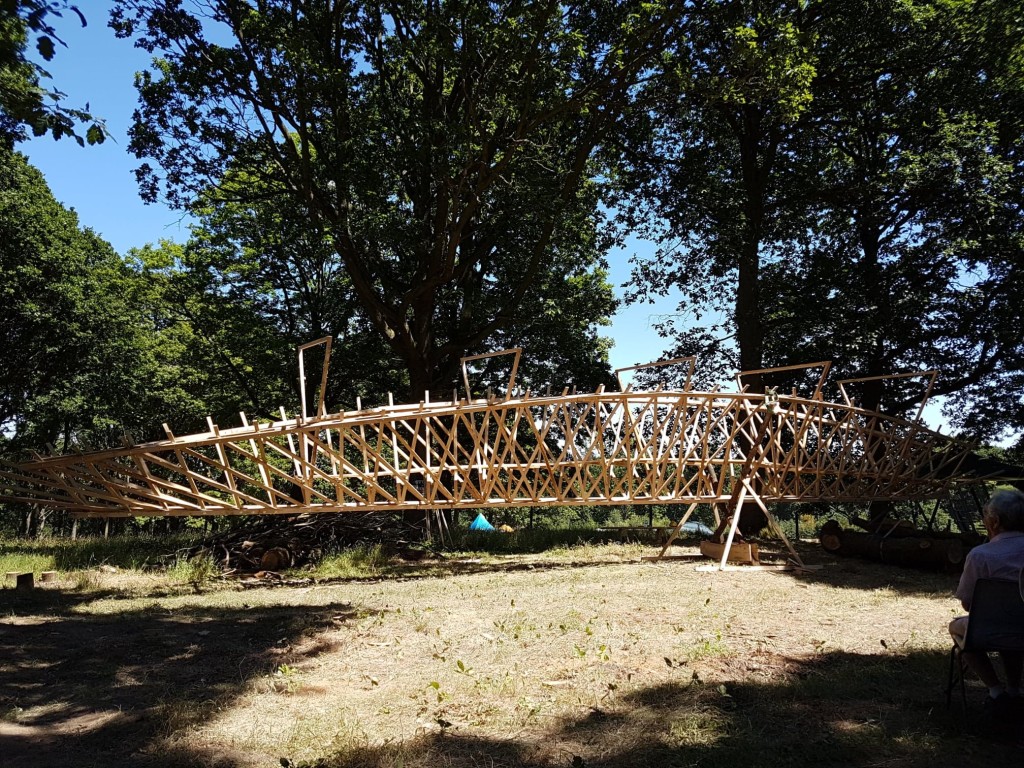 Barbara Kaucky & Susanne Tutsch (Erect Architecture): an enclosure to let sunlight into the forest floor to encourage biodiversity
Guan Lee (Grymsdyke Farm/Bartlett), Hannah Durham (Cullinan Studio), Adam Holloway (Adam Holloway Architects): Musical theme of robotic arm as an 'instrument' playing series of sounds from the woodland, the rhythm cut into timber and other structures to amplify
Meredith Bowles (Mole Architects), Charley Brentnall (Carpenter Oak), Piers Taylor (Invisible Studio) constructed a 'room for a tree' from curved timber with no commercial value designed to provide an alternative reading of the tree canopy
Other links:
'I don't know what we'll do next year, or where we'll do it, but what I do know about Studio in the Woods is this: The power of working in a group; the fascination of seeing the diverse approaches of these different groups and tutors; the joy of the happy accident; the intensity of bringing something to a conclusion in a short space of time; the visceral thrill of materials, and of timber; the heady pleasure of working outside in summertime; watching people at the top of their game; seeing the intelligence of the students; the pleasure of being surrounded by good friends, and James Payne's pithy observation that it's not JUST a forum for a bunch of chainsaw wielding hippies, but there's also serious intellectual debate.'
Piers Taylor 
http://www.invisiblestudio.org/blog/
SITW Video by Jim Stephenson: https://vimeo.com/280577302
AJ: https://www.architectsjournal.co.uk/buildings/invisible-studios-student-build-workshop-creates-six-timber-structures/10033447.article